I know tight protective hairstyles are a necessity to keep our curly hair healthy, but I didn't know what to do about the balding around my scalp. I've noticed hair loss around my edges since I was a kid, and I still try to hide it with wigs, hats, scarves, you name it.
Recently, I started noticing tiny bald patches along my daughter's hairline. I freaked out. It mimicked the same pattern I have around my edges, I had to do something fast. Growing up self-conscious about your hair is never something I would want my child to go through, especially knowing how much pain it caused me.
After looking up multiple products and doing some research, I learned that anywhere from a third to a half of all black women experience some form of hair loss in their lifetime. Knowing that I started trying multiple products and techniques, but nothing seemed to work with our 3c hair. I was determined to find a product to help with my little girl's hair loss and my own.
One day, a girlfriend of mine recommended Hollywood Hair Bar, she said she had been using it on herself and her kids, and it had worked wonders. It is a black-owned, women-owned business, so I had to try it. Because who would know our hair better? I bought the Regrowth Serum and started applying it to my and my daughter's scalp every day.
I couldn't believe the results! After only two weeks, our edges started to fill back in. I could feel my own confidence coming back, and I could see my little girl happy at how fast her hair was growing.
Hollywood Hair Bar's hair regrowth serum is all-natural, you do not have to worry about harsh chemicals burning your scalp or ruining your hair texture. It moisturizes the scalp and the strands promoting healthy hair growth at the root.
So, for only $24.99, it is worth the commitment! A bottle lasted me an entire month, and I subscribed so that we never run out. This stuff noticeably increased the confidence in my daughter and me. Our curls have never looked healthier, and I no longer need to hide my edges. Thank you, Hollywood Hair Bar!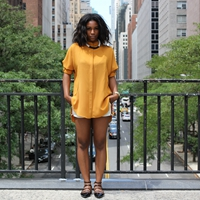 Amanda Allen (34) is a Staff Writer for The Daily Post covering Healthy, Beauty, Fashion, and Fitness. In her spare time, she trains for her next marathon and plays with her dog Pico. She enjoys a nice glass of pinot noir and plays tabletop games with her friends.