Grammy Award-winning artist Ciara has always been known for her head-turning style. Now, she's sharing it with the world. Just a few months ago, she launched her eponymous fashion label, LITA by Ciara, as part of the fashion house co-founded by her and Russell Wilson, The House of LR&C. LITA by Ciara embodies Ciara's fashion sense, and offers a chic, modern collection that is designed with impact and sustainability in mind.
Combining her love of fashion and drive to make a difference, Ciara formed LITA by Ciara (which stands for 'Love Is The Answer') with a mission to create large-scale positive impact. More than 65% of the collection uses fabrics in The House of LR&C's Best or Better categories, as defined in their Goods Mandate, like recycled cashmere and organic cotton. The brand also uses 100% home compostable packaging.
Now, you can buy Ciara's hand-picked favorites from the line. She has selected the best clothing and accessories for the holiday season, perfect for giving to your loved ones, or to yourself. Check out the roundup below:
Ciara's Gift Guide List:
HEART BUCKET HAT IN FAUX FUR
1
Luxurious, yet playful, bucket hat in plush Italian faux fur.
HEAVEN ALPACA CROP SWEATER IN RIB JERSEY
2
Cozy, slouchy turtleneck sweater in ultra lofty, brushed Italian alpaca wool blend.
LEAD WITH LOVE COMBAT BOOT
3
Tall, sleek combat boot handcrafted in Italy with soft Nappa leather. Ultra lightweight with a microlight sole.
ROOTED SHIRT JACKET IN BRUSHED FLANNEL PLAID
4
Boyfriend-style shirt jacket in brushed cotton flannel with front flap pockets and classic barrel cuffs.
EVERYTHING COAT IN HOUNDSTOOTH JERSEY
5
A timeless midii coat made in a soft, Italian wool and cashmere blend. Fully lined in custom jacquard woven king cheetah pattern.
Not only are you shopping from Ciara's handpicked favorites, but you are giving back with every purchase. 3% of proceeds from every product sold goes to the Why Not You Foundation, a non profit organization dedicated to education, children's health and fighting poverty. Shop sustainably while giving back and looking your best.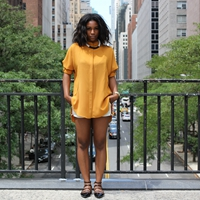 Amanda Allen (34) is a Staff Writer for The Daily Post covering Healthy, Beauty, Fashion, and Fitness. In her spare time, she trains for her next marathon and plays with her dog Pico. She enjoys a nice glass of pinot noir and plays tabletop games with her friends.